According to Honorable Supreme Courts order, Indian citizens will have to ink all LIC policies with Aadhaar card by 31 March, 2018. LIC has come up with online portal to link Aadhaar card with LIC policies.
Here we will explain different methods to link all of your LIC policies with Aadhaar card both online and offline.
Method 1 : Link LIC policy with Aadhaar card online Using LIC seeding portal
Keep details LIC policy numbers, Aadhaar card, PAN card handy and make sure you have working mobile number to get Aadhaar OTP. The OTP will be send on the mobile number which is linked with Aadhaar card.

Click on this link top open the online LIC policy Aadhaar linking portal. The portal will display form as in image below.
3. Enter all the details in the form, accept declaration, fill in the captcha and click on "Get OTP" button as shown in above image. Multiple policies can be added by clicking on "Add Policy" option.
4. You will be redirected to new page if no errors are found in the details provided by you. The details entered by you will be displayed in the new page as in below image for verification.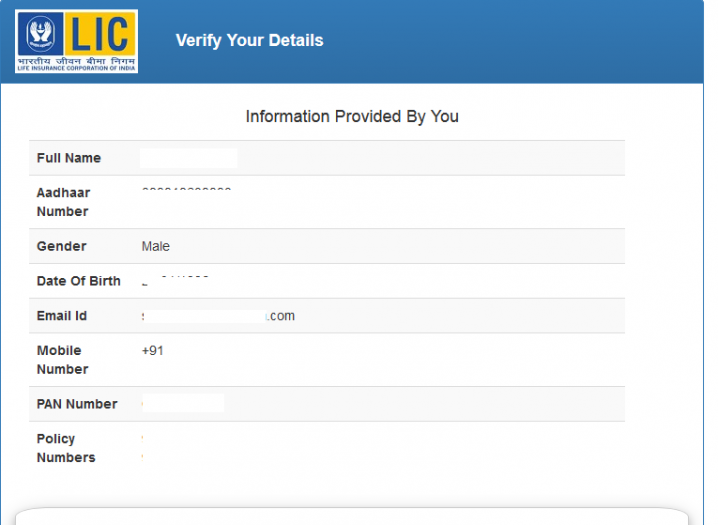 5. Enter the OTP and click on Submit. On successful submission you will be redirected to a new page displaying the success message as in below image.

6. Please note that linking of Aadhaar card with your LIC policy is not completed by carrying out above process. It is still in progress and after verification of Aadhaar card data and LIC policy data you will be notified the status on SMS and e-mail. The timeline of the same is not yet provided.
Method 2 : Link Aadhaar card with LIC policy online Using LIC customer portal
Create a new customer account on LIC portal using this link.
Provide all the mandatory information which includes Policy Premium, Premium Installment without taxes, Date of Birth, Mobile Number, Email, Aadhaar card, PAN, Gender. Passport number is optional.
You will be provided with OTP or verification link in email to complete the registration.
Post successful registration login in the portal  using registered user option in this link.
Got to My profile and check your details like Aadhaar card, PAN under digital details.
Method 3 : Link Aadhaar card with LIC policy offline by visiting LIC branch
Download the consent form LIC official website here. Take a print out of the form and fill up all the required details.
Take Xerox copy of PAN, Aadhaar Card and self attested it by signing on the Xerox copies.
Visit nearest LIC branch by carrying duly filled consent form, PAN & Aadhaar Card self attested copy. Also carry original PAN, Aadhaar Card, LIC policies certificate.
Submit the duly filled form to the branch employee.
This process is beneficial for the people who have taken LIC policy for child and do not have child PAN due to which online process will not be successful since PAN is mandatory. Make sure to provide your PAN on behalf of child as your are the proposer.