Mobile
OnePlus 5/5T get Oxygen OS 5.1.6 with Idea VoLTE & Project Treble support
OnePlus 6 users already have Idea Cellular (Telecom service provider in India) VoLTE support which provides superior voice clarity thus improving calling experience. OnePlus has started to rolled out Idea VoLTE support for OnePlus 5 and OnePlus 5T devices in the next update which is Oxygen OS 5.1.6.
The Oxygen OS 5.1.6 system update for OnePlus 5 and OnePlus 5T includes:
Supported for Project Treble




Supported IDEA India VoLTE (Default On)




Improved Bluetooth stability for phone calls




Updated Android security patch to 2018.10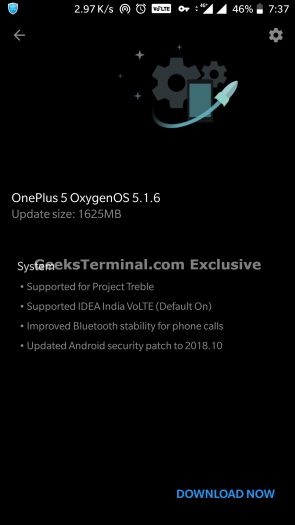 Surprisingly the update also includes much awaited Project Treble support which will help OnePlus to push the Android updates more frequently to the devices and Android 8.1 Oreo October 2018 security patch. 
The update is rolled out in stages and OnePlus 5, OnePlus 5T device owners might have to wait for some to receive the OTA update.
Eager to get the update?
If you do not wish to wait for OTA (Over-The-Air) update in your country then download the update by using VPN and selecting France as country.
Alternately, you can download the zip from following methods and install offline:
1) The update is available for download on XDA Developers. Please refer to this post for OnePlus 5 and this post for OnePlus 5T to get more details.
2) Using Oxygen Updater Android application available at Google Play Store .
Disclaimer: GeeksTerminal.com advises readers to wait for OTA update since it may contain country specific updates and do not take any responsible for issues occurring due to the manual update mentioned in the above methods.
Note: The OnePlus 5/5T devices must have Oxygen OS updated to 5.1.5 before installing Oxygen OS 5.1.6.
Bugs in Oxygen OS 5.1.6:
Some users have reported issues with the Bluetooth connectivity upon updating to Oxygen Os 5.1.6. Please visit OnePlus forums for more details.
Have any question, query, suggestion? Please comment or contact us through contact page. We will get back to you.
Found the post useful? Please share the post and support us !